Climate change?
The atmosphere is like the 'tail of the dog': it is hard to see where the climate 'dog' is going from the 'wagging tail' of the atmosphere's temperature. The ocean has a heat capacity a thousand times that of the atmosphere, and takes hundreds of years to warm and/or cool---the ocean is like the 'body of the dog' of climate. So instead of looking at atmospheric temperatures, look to the ocean to see where the climate is going. As the ocean warms, it expands, and so sea level rises. As glaciers increasingly melt, the sea level rises. The following graph indicates where the ocean is going [thanks to the CSIRO at
https://www.cmar.csiro.au/sealevel/sl_hist_last_decades.html
, April 2019]: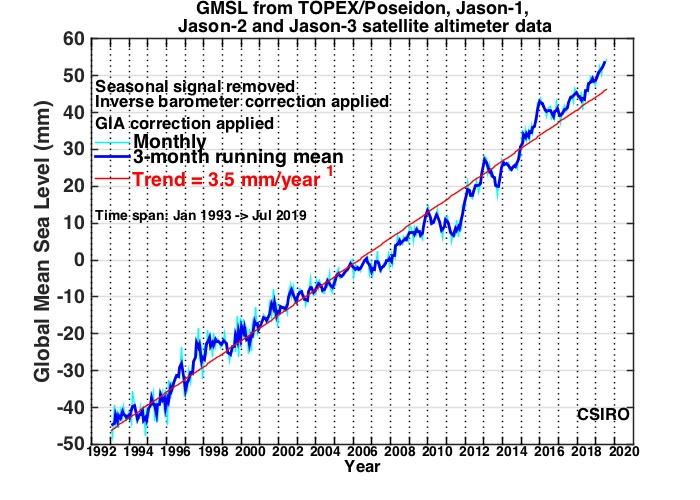 Erdos number 3
The Erdos Number is the distance from Paul Erdos (1913--1996) on a graph whose edges denote the relationship of coauthorship in scientific articles [
http://www.oakland.edu/enp
]:
Pollett, P. K.; Roberts, A. J. A description of the long-term behaviour of absorbing continuous-time Markov chains using a centre manifold. Adv. in Appl. Probab. 22 (1990), 111--128.
Brown, T. C.; Pollett, P. K. Some distributional approximations in Markovian queueing networks. Adv. in Appl. Probab. 14 (1982), 654--671.
Brown, T. C.; Erdos, P.; Chung, F. R. K.; Graham, R. L. Quantitative forms of a theorem of Hilbert. J. Combin. Theory Ser. A 38 (1985), 210--216.
If you like this web page, please link to it so others can find it more easily.